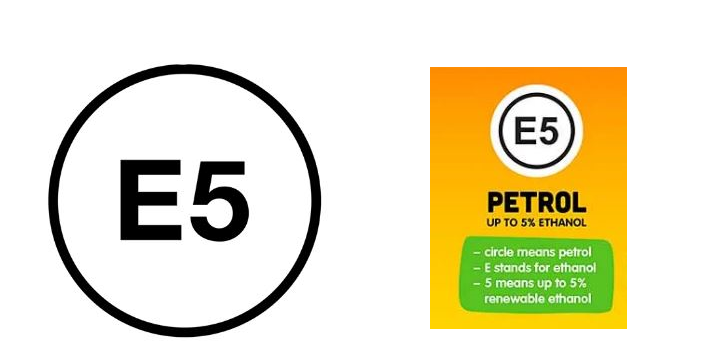 Petrol in Northern Ireland for older vehicles.
In a bid to help reduce carbon dioxide emissions, the Government has changed the standard grade of petrol from 95% octane and 5% ethanol (known as E5 at the petrol pumps) to a mix that contains 10% renewable ethanol and the rest octane. By changing this mix of fuel, CO2-based vehicle emissions will be reduced. This will be known as E10
and is designed to be a more eco-friendly petrol and now standard petrol grade.
Now just two types of petrol can be sold in the UK. Known as E10 and E5 with E10 the standard grade of petrol sold from now on at every petrol station.
E10 however is not suitable for many pre-2011 engines and or most classics and vintage vehicles as it can cause damage to engines and various types of hoses. The government estimate in the UK there are 600,000 vehicles on the road that will not be able to use E10.
Fuel containing ethanol can turn corrosive if left in long-term storage, while ethanol's high solvency will affect seals and gaskets used in some older fuel systems. Combustion can be affected, with ethanol affecting cold start performance.
Unlike putting diesel in a petrol car or petrol in a diesel car, you don't need to drain the tank to avoid permanent damage to your car and engine if you put E10 fuel in your car by mistake.
Putting E10 petrol in a non-compatible car on a one-time basis should not result in the car's engine being damaged. However, using E10 petrol in a non-compatible car on a regular basis is not recommended as this can result in long-term harm to the engine.
Should you fill up with E10 fuel just remember to fill up with E5 fuel next time. It would be worth topping up with one of these fuels once you've used up some petrol and you've got some space in the fuel tank.
For those not able to use E10 fuel you should use E5 formerly known as Super Unleaded or Premium petrol, with these having 97 and 99 octane. The Government has said that these fuels will continue to be available in many but not all petrol stations and should provide better performance but will cost more.
Here are comments made by some of the major fuel suppliers.
BP.
E5 will remain available at most (but not all) BP Petrol Stations and known as BP Ultimate.
Esso.
Most Esso stations will sell E5 known as Synergy Supreme+ 99 premium petrol but unlike other supplies most of this will not contain any ethanol at all.



Legislation requires us to place E5 labels on pumps that dispense unleaded petrol with 'up to 5% ethanol', including those that contain no ethanol. 
That is why we display E5 labels on all our Synergy Supreme+ 99 pumps even though many don't contain any ethanol at all.
Texaco.
E5 will continue to be available at many forecourts in Texaco Supreme Unleaded.
Sainsbury's.
Most will continue to sell E5.
Tesco.
Most will continue to sell E5.
Asda.
None of Asda's forecourts will sell E5.




Petrol stations selling E5 petrol.
Below is a map and list of Petrol Stations in Northern Ireland, listed by county selling E5 Fuel.   
If you know of any outlets selling E5 not on this list, please can you inform us via the short online form 
from this link and we will add them to this list.  Many thanks to Darragh Doherty for creating the map.
COUNTY ANTRIM
HRL RANDALSTOWN
BP Ultimate
40 New Street
ANTRIM
CO ANTRIM
BT41 3AF
Maxol
Maxol Premium
22 Castle Street
Ballycastle
CO ANTRIM
BT54 6AR
HRL TEMPLEPATRICK
BP Ultimate
954 Antrim Road
BALLYCLARE
CO ANTRIM
BT39 0AT
N WATT & SON FILLING STATION
BP Ultimate
4 Ballynure Road
BALLYCLARE
CO ANTRIM
BT39 9AG
HRL AHOGHILL
BP Ultimate
301 Galgorm Road
BALLYMENA
CO ANTRIM
BT42 1JU
Circle K Express
miles® PLUS unleaded 95
2 Ballymena Road
Ballymoney
CO ANTRIM
BT53 7AB
HRL SHANKILL EUROSPAR
BP Ultimate
58 SHANKILL ROAD
BELFAST
CO ANTRIM
BT13 2BB
HRL RAVENHILL ROAD
BP Ultimate
318 Ravenhill Road
BELFAST
CO ANTRIM
BT6 8GL
HRL LADAS DRIVE
BP Ultimate
Ladas Drive
BELFAST
CO ANTRIM
BT6 9FH
ALBERTBRIDGE ROAD SERVICE STN
BP Ultimate
310 Albertbridge Road
BELFAST
CO ANTRIM
BT5 4GX
HRL BALLYHACKAMORE
BP Ultimate
Upper Newtownards Road
BELFAST
CO ANTRIM
BT4 3EU
HRL HOLYWOOD ROAD
BP Ultimate
220-230 Holywood Road
BELFAST
CO ANTRIM
BT4 1JU
HRL SHANDON PARK
BP Ultimate
211 Knock Road
BELFAST
CO ANTRIM
BT5 6QE
HRL MALONE ROAD
BP Ultimate
70-74 Malone Road
BELFAST
CO ANTRIM
BT9 5BU
CREIGHTONS OF BALMORAL
BP Ultimate
2-4 Upper Lisburn Road
BELFAST
CO ANTRIM
BT10 0AA
CREIGHTONS OF FINAGHY
BP Ultimate
87-89 Upper Lisburn Road
BELFAST
CO ANTRIM
BT10 0GY
MOOR PARK
BP Ultimate
120 Blacks Road
BELFAST
CO ANTRIM
BT10 0NF
HRL SHANKILL EUROSPAR
BP Ultimate
58 SHANKILL ROAD
BELFAST
CO ANTRIM
BT13 2BB
HRL GLENWELL
BP Ultimate
290 Antrim Road
BELFAST
CO ANTRIM
BT36 7QT
HRL BRACKENVALE
BP Ultimate
Saintfield Road
BELFAST
CO ANTRIM
BT8 8EU
HENDERSONS MUSGRAVE (VMI)
E5 Supreme Unleaded
136 STOCKMANS LANE
BELFAST
CO ANTRIM
BT9 7JE
HENDERSONS HANWOOD (VMI)
E5 Supreme Unleaded
DUNDONALD ROAD
BELFAST
CO ANTRIM
BT16 1DE
MADIGANS COURT (VMI)
E5 Supreme Unleaded
739-741 ANTRIM ROAD
BELFAST
CO ANTRIM
BT15 4EL
Solo The Creamery
Unleaded
54 Rosetta Road
BELFAST
CO ANTRIM
BT6 0LT
Solo Rosetta Filling Station
Unleaded
569 Ormeau Road
BELFAST
CO ANTRIM
BT7 3JB
Sainsbury's Holywood Exchange
Super Unleaded
302 Airport Road West
BELFAST
CO ANTRIM
BT3 9EJ
Circle K Express
miles® PLUS unleaded 95
40 Priestland Road
Bushmills
CO ANTRIM
BT57 8XB
HRL FORTFIELD
BP Ultimate
Belfast Road
CARRICKFERGUS
CO ANTRIM
BT38 8PH
HRL CARRICK
BP Ultimate
24-26 Middle Road
CARRICKFERGUS
CO ANTRIM
BT38 9DN
Circle K Super Unleaded Airport Road Se

rvice Station

miles® PLUS unleaded 95
11 Tully Road, Nutts Corner
CRUMLIN
CO ANTRIM
BT29 4SW
HENDERSONS DOAGH (VMI)
E5 Supreme Unleaded
8 STATION ROAD
DOAGH
CO ANTRIM
BT39 0QT
HRL KILWAUGHTER
BP Ultimate
Belfast Road
LARNE
CO ANTRIM
BT40 2PH
HENDERSONS LARNE (VMI)
E5 Supreme Unleaded
16 LINN ROAD
LARNE
CO ANTRIM
BT40 2BT
HRL WALLACE VILLAGE
BP Ultimate
28 LADY WALLACE LANE
LISBURN
CO ANTRIM
BT28 3WT
HRL LAGAN VALLEY
BP Ultimate
75-81 Hillsborough Road
LISBURN
CO ANTRIM
BT28 1JN
HENDERSONS SAINTFIELD RD (VMI)
E5 Supreme Unleaded
1 MERCER STREET
LISBURN
CO ANTRIM
BT27 5AJ
BELSIZE SSTN (VL)
E5 Supreme Unleaded
156 BELSIZE ROAD
LISBURN
CO ANTRIM
BT27 4DR
Circle K Express
miles® PLUS unleaded 95
1 Mayfield Link
Mallusk
CO ANTRIM
BT36 4AW
NICHOLL AUTO 365
E5 Super Unleaded
293 SHORE ROAD
NEWTOWNABBEY
CO ANTRIM
BT37 9RY
Maxol
Maxol Premium
185 Bushmills Road
Portrush
CO ANTRIM
BT56 8JG
Maxol
Maxol Premium
91 Templepatrick Road
Ballclare
CO ANTRIM
BT39 9RQ
COUNTY ARMAGH
Circle K Express Killylea Road
miles® PLUS unleaded 95
1 Killylea Road
ARMAGH
CO ARMAGH
BT60 4AN
Circle K Express Moy Road
miles® PLUS unleaded 95
1 Moy Road
ARMAGH
CO ARMAGH
BT61 7LY
WHITTLE'S SERVICE STATION
BP Ultimate
132 Newry Road
ARMAGH
CO ARMAGH
BT60 1ES
HRL LOUGHVIEW
BP Ultimate
235 Lough Road
CRAIGAVON
CO ARMAGH
BT66 6NQ
HRL MAGHABERRY
BP Ultimate
Wellington Parks
CRAIGAVON
CO ARMAGH
BT67 0QN
Circle K Broomhedge Service Station
miles® PLUS unleaded 95
25A Lisburn
CRAIGAVON
CO ARMAGH
BT67 0JS
LURGAN FILLING STATION (VMI)
E5 Supreme Unleaded
17 PORTADOWN ROAD
LURGAN
CO ARMAGH
BT66 8QW
BRIDGE FILLING STATION
BP Ultimate
285 Bridge Street
PORTADOWN
CO ARMAGH
BT63 5AR
HENDERSONS SEAGOE FSTN (VMI)
E5 Supreme Unleaded
52 LURGAN ROAD
PORTADOWN
CO ARMAGH
BT63 5QW
Go Portadown
Super Unleaded
19 Armagh Road
PORTADOWN
CO ARMAGH
BT62 3DJ
FRUITFIELD FSTN (VL)
E5 Supreme Unleaded
181 PORTADOWN ROAD
RICHHILL
CO ARMAGH
BT61 9LG
COUNTY DOWN
Maxol Eurospar
Maxol Premium
5 Downpatrick Road
Ardglass
CO DOWN
BT30 7SF
Ballydown Filling station
Texaco Super Unleaded
124 Castlewellan Road
Banbridge
CO DOWN
BT32 4JP
Circle K Express Banbridge
miles® PLUS unleaded 95
23A Church Street
Banbridge
CO DOWN
BT32 4AD
Go Centra A1 (North bound)
Super Unleaded
24 Halfway Road
Banbridge
CO DOWN
BT32 4ET
BALLYDOWN SSTN (VMI)
E5 Supreme Unleaded
124 CASTLEWELLAN ROAD
BANBRIDGE
CO DOWN
BT32 4JP
EUROSPAR GRANSHA
BP Ultimate
81 GRANSHA ROAD
BANGOR
CO DOWN
BT20 4TL
SAINSBURY'S PETROL STATION
Super Unleaded
10 BALLOO LINK
BANGOR
CO DOWN
BT19 7HJ
NICHOLL AUTO 365
E5 SuperUnleaded
200 DONAGHADEE ROAD
BANGOR
CO DOWN
BT20 4RZ
HRL RATHGAEL ROAD
BP Ultimate
98 Rathgael Road
BANGOR
CO DOWN
BT19 1RS
HRL BELFAST ROAD
BP Ultimate
139-141 Belfast Road
BANGOR
CO DOWN
BT20 3PP
Mace Clandeboye Solo
Super Unleaded
173 Clandeboye Road
BANGOR
CO DOWN
BT19 1AA
HRL GRANSHA
BP Ultimate
81 Gransha Road
BANGOR
CO DOWN
BT20 4TL
HENDERSONS COMBER (VMI)
E5 Supreme Unleaded
KILLINCHY ROAD
COMBER
CO DOWN
BT23 5SW
Maxol Eurospar
Maxol Premium
2 Main Street
Clough
CO DOWN
BT30 8RA
Solo Crossgar
Solo Premium
21 Killyleagh Street
Crossgar
CO DOWN
BT30 9DQ
Pooles Maxol
Maxol Premium
16 Banbridge Road
Dromore
CO DOWN
BT25 1NB
HRL TORGRANGE
BP Ultimate
41 Bangor Road
HOLYWOOD
CO DOWN
BT18 0NG
HENDERSONS KILKEEL (VMI)
E5 Supreme Unleaded
55 GREENCASTLE STREET
KILKEEL
CO DOWN
BT34 4BH
HRL GLENAVY ROAD
BP Ultimate
Glenavy Road
MOIRA
CO DOWN
BT67 0LT
Circle K Express
miles® PLUS unleaded 95
16 Belfast Road
Newry
CO DOWN
BT34 1QA
FIVEWAYS SHOP & SSTN (VMI)
E5 Supreme Unleaded
99-101 ARMAGH ROAD
NEWRY
CO DOWN
BT35 6PW
NARROW-WATER SSTN
E5 Supreme Unleaded
WARRENPOINT
NEWRY
CO DOWN
BT34 3LD
HRL ROSEVALE
BP Ultimate
37 Bangor Road
NEWTOWNARDS
CO DOWN
BT23 7BZ
HRL HARDFORD LINK
BP Ultimate
3 Hardford Link
NEWTOWNARDS
CO DOWN
BT23 4FF
COUNTY FERMANAGH
LILLEY'S DUBLIN ROAD (VMI)
E5 Supreme Unleaded
77 DUBLIN ROAD
ENNISKILLEN
CO FERMANAGH
BT74 7HN
LILLEY'S DRUMLYON (VMI)
E5 Supreme Unleaded
27 LOUGHSHORE ROAD
ENNISKILLEN
CO FERMANAGH
BT74 5NH
NICHOLL AUTO 365
E5 Super Unleaded
99 IRVINESTOWN ROAD
ENNISKILLEN
CO FERMANAGH
BT74 6DN
CASTLE ARCHDALE SSTN (VMI)
E5 Supreme Unleaded
371 KILLADEAS ROAD
LISNARICK
CO FERMANAGH
BT94 1PN
COUNTY LONDONDERRY
IVAN WILSON SSTN (VL)
E5 Supreme Unleaded
277 DUNHILL ROAD
COLERAINE
CO LONDONDERRY
BT51 3QJ
NICHOLL AUTO 365
E5 Super Unleaded
LONG COMMONS
COLERAINE
CO LONDONDERRY
BT52 1GG
KENNYS GARVAGH (VMI)
E5 Supreme Unleaded
4 MAIN STREET
GARVAGH
CO LONDONDERRY
BT51 5AD
Go Fuels
Super Unleaded
128 Strand Road
LONDONDERRY
CO LONDONDERRY
BT48 7PB
Star Fuels Link Service Station Centra
Super Unleaded
180 Creggan Road
LONDONDERRY
CO LONDONDERRY
BT48 0RX
GLENSHANE TOURIST SSTN (VMI)
E5 Supreme Unleaded
31 GLENSHANE ROAD
MAGHERA
CO LONDONDERRY
BT46 5JZ
HIGHFIELD SERVICE STATION
BP Ultimate
55 Moneymore Road
MAGHERAFELT
CO LONDONDERRY
BT45 6HF
KELLYS MONEYMORE (VMI)
E5 Supreme Unleaded
MAGHERAFELT ROAD
MONEYMORE
CO LONDONDERRY
BT45 7UL
LARKHILL SSTN (VMI)
E5 Supreme Unleaded
171 COLERAINE ROAD
PORTSTEWART
CO LONDONDERRY
BT55 7HU
McGinley's Oil Go Fuels
Super Unleaded
20 Buncrana Road
LONDONDERRY
CO LONDONDERRY
BT48 8AB
Spar Maxol
Maxol Premium
5 Coolafinny Road
EGLINTON
CO LONDONDERRY
BT47 3PG
COUNTY TYRONE
PATTERSON M1 SERVICE STATION
E5 Supreme Unleaded
WOODLOUGH ROAD
DUNGANNON
CO TYRONE
BT70 1AE
HRL RANFURLY
BP Ultimate
20 Moy Road
DUNGANNON
CO TYRONE
BT71 7DS
CABRAGH FILLING STATION
BP Ultimate
Ballygawley Road
DUNGANNON
CO TYRONE
BT70 1TF
CHARLEMONT STREET (VMI)
E5 Supreme Unleaded
41 CHARLEMONT STREET
MOY
CO TYRONE
BT71 7SL
HILLVIEW SSTN (VL)
E5 Supreme Unleaded
33 DUNGANNON ROAD
MOY
CO TYRONE
BT71 7SP
McCullagh's Classic Service Station
Super Unleaded
14 Dromore Road
Omagh
CO TYRONE
BT78 1QZ