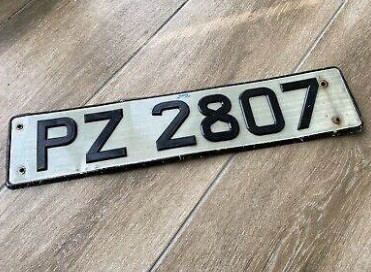 Re-instating / obtaining an Age Related Registration for an old vehicle in N. Ireland.
These notes should hopefully guide you on the correct procedures on re-instating an original registration to a vehicle which hasn't been taxed or sorned for some time and obtaining an Age Related Registration for a vehicle imported to NI from the Republic or any other country.
1. Re-instating an original registration (NI & GB) to a vehicle which hasn't been taxed or sorned for some time. (Applies to all types of vehicles, cars, commercials, bikes, scooters, tractors etc.)
The process to reclaim this is known as the V765 route. For this you need to produce an old Tax Book (Document) relating to the vehicle.
It does not matter if you are not the keeper listed on this. The procedure is you send ORIGINAL COPIES of all the documents listed below to the AOVC address supplied by DVLA in Swansea. The AOVC are the only organisation in NI authorised by DVLA to process applications for all makes & models of vehicles including Tractors & Commercials. Having other Clubs / Organisations process your application will only result in DVLA rejecting it.
V765 Form - see at end of this page for link to down load this Form.
V55/5 Form - see at end of this page for link to down load this Form and the Guidance Notes.
Two RECENT photographs of the vehicle, one showing the entire vehicle the other a close up of the Chassis / Frame Number.
Cheque made out to AOVC for £85.00 for the inspection fee, reduced to £75.00 if you are a member of an AOVC Club.
We will check the paperwork is in order and one of our inspectors will contact you by telephone to arrange a convenient time to do the vehicle inspection at your home. Note at that time the vehicle must be roadworthy, complete, be able to be driven and the inspector needs to be confident if it went for an MOT that day it would pass. If the vehicle is in bits, being partly restored or needs resprayed do not submit the V765 documents above until everything is completed on the vehicle.
After the inspection we will retain the original tax book you sent and forward a certified copy of this with the other documents to DVLA who will in due course issue you with the new V5. You then contact us to confirm this has been received and we will return the original Tax Book to you.
If you don't have a Tax Book you must obtain from an Old Vehicle Club / Manufacturer / Museum / Dealer / Council a letter or certificate confirming the Registration and Chassis / Frame Number with year of manufacture.
Without this you will be unable to have the original number re-instated and need to contact DVLA requesting they issue you with an Age Related Registration.
If your vehicle has a GB registration some of the local councils kept copies of the registrations they issued before handing everything over to DVLA so they may be able to confirm the Registration and Chassis / Frame Number. Experience has shown in NI none of the Councils kept records before handing everything over to DVLNI in Coleraine many years ago.
Should you need to go down the above route and do not know which GB Council issued the Registration please drop me an email on secretary@aovc.co.uk with the Registration and I will come back with details of the original licensing authority.
Note after the AOVC do an inspection DVLA may do a random check and ask you bring the vehicle to one of three MOT centres in NI for them to do a further inspection.
If the vehicle has previously been a military vehicle it would help if you have what is called the T Card for the vehicle which is similar to a Tax Book and lists all the various parts of the world and regiments that used the vehicle and when it was taken out of service etc. These can usually be obtained from a number of Military Vehicle Groups.
2. Should your vehicle have been brought in to NI from abroad and you require an Age Related Registration we generally would not be involved in this. You need to contact DVLA direct who will probably want to see the original foreign tax document.
If you have purchased a vehicle from the Republic without a Tax Book if you contact Department of Transport, Shannon, Co. Clare Tel 00353 61 365 083 they should be able to provide you with either a copy or letter confirming the Registration there and Chassis / Frame number to provide to DVLA.
Possibly you have already been in contact with DVLA and they may have offered you a Q Plate for the vehicle. This is a registration QNI xxxx and something you want to avoid at all costs as having this instead of an Age Related Registration will devalue your vehicle and no matter how old the vehicle is you will not be entitled to free road tax. These Q Plate registrations are generally put on vehicles where DVLA cannot pin down the year of manufacturer to one calendar year (Kit Cars) or the vehicle has appeared in NI without any documentation as to it's previous history, (Japanese imports).
Note only the owner of the vehicle can apply to have the Q plate removed if they can find sufficient information to confirm date of manufacture but they have just 12 months to do this. Someone purchasing a vehicle with a Q Plate cannot have this removed.
Hopefully the above has answered all of your queries but if you still have some please send these by email to secretary@aovc.co.uk
Check out the Guidance Notes to completing the V55/5
https://www.gov.uk/government/publications/v3555-application-for-first-vehicle-tax-and-registration-of-a-used-motor-vehicle-v555
Trevor Mitchell
AOVC Secretary
7th May 2020